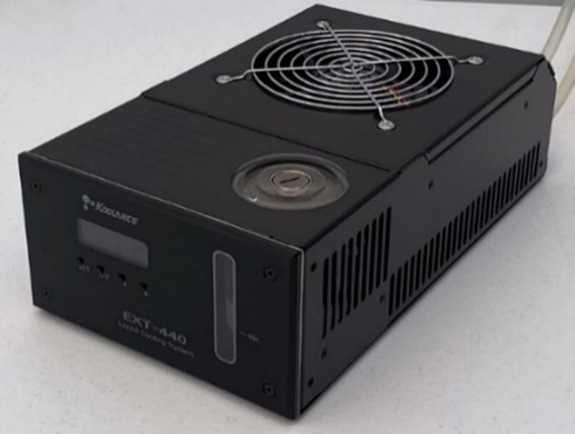 Liquid Coolant Heat Exchanger with Hardware
PN0317
The Liquid Heat Exchanger (400 W) pumps non-conductive fluid through the heat sink, drawing away heat transferred from the top plate when in cooling mode. The exchanger is placed away from the thermal camera and stage to prevent air current from the exchanger fan from interfering with sensitive failure analysis tests.
Applications
Included Components
[PN0232] Liquid Coolant Fitting

[PN0234] Liquid Coolant

[PN0265] Heat Exchanger Power Adapter
Included In
Required Products


Related Products
Manufacturer Information
| | |
| --- | --- |
| Dimensions | 315 x 162 x 93mm |
| Dry Weight | 2.6kg |
Installation
Please see the following manufacturer's documents regarding setting up, filling, and operating the Liquid Heat Exchanger:
Use
Turn on the Liquid Heat Exchanger and set the pump speed and fan speed to level 5.