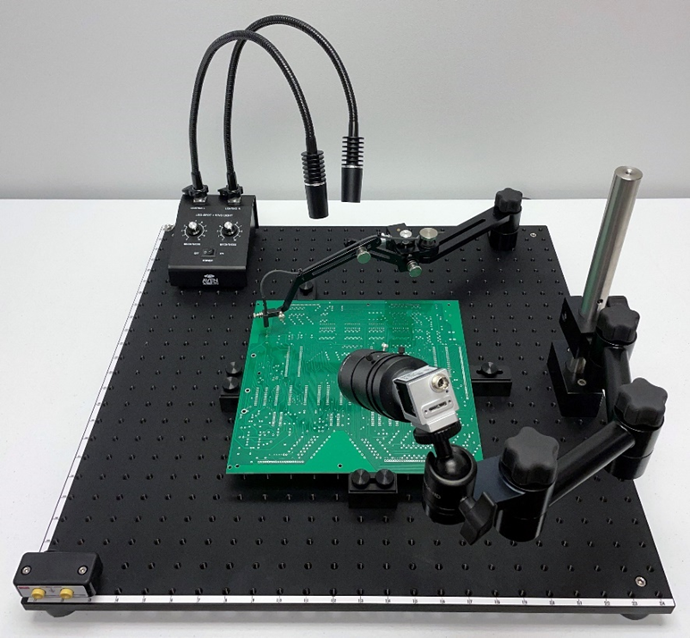 Circuit Board Probing Camera Manual XYZ
PN0294 allows the probing camera to be manually positioned in any orientation when probing both circuit boards and semiconductor devices. The arm is very rigid with minimal sag and is comprised of aluminum joints with PTFE bearings, rubber-coated steel knobs, and steel threaded posts. Needle bearings provide smooth adjustment of joint friction. A ball swivel clamp with thumb screw enables a wide range of camera viewing angles. The arm mounts on a rigid stainless steel 40 mm post and provides 500 mm reach and weighs 1.6 Kg.
Applications
Circuit board probing

Semiconductor device probing

Included Components
Video Camera

Macro Zoom Lens

Camera Cable

Manual XYZ arm assembly with post and post mount
Required Products


Related Products
Manufacturer Information
Manual XYZ Arm Specs
| | |
| --- | --- |
| Reach radius | 500mm |
| Weight | 1.6 kg |
XY Probing Camera Arm
Lens Damage: Support the probing camera or lens with your hand when loosening the ball swivel clamp to prevent the lens from swinging down and striking another object.

Adjusting Joint Stiffness
Rotate the joint knobs to set the stiffness of each joint. Tightening a joint will decrease arm sag. Adjust each joint so that the camera can be repositioned easily with minimal arm sag.
Changing Arm Height
Probing camera height can be raised or lowered by loosening the arm clamp knob and sliding the clamp up or down on the 40 mm post.
Tip: When raising or lowering the arm, support the center of the arm with one hand so that the clamp slides more smoothly on the post.