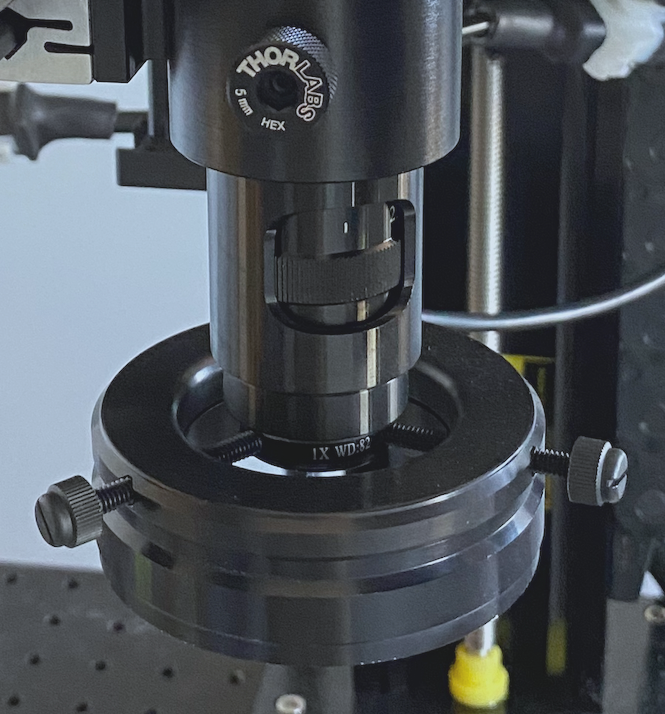 Device Probing Microscope Camera
PN0293 displays small areas on electronic devices when making electrical connections using probes. The camera can also be used to capture images of the unit under test for use with the Picture Overlay software tool.
Applications
Semiconductor device probing
Included Components
Video Camera

Microscopic Zoom Lens

Camera Cable

Ring light with lens mounting screws

LED control box

Mounting hardware
Required Products


Related Products
Manufacturer Information
LED Control Box
| | |
| --- | --- |
| Voltage | 85-265VAC |
| Frequency | 50-60 Hz |
Microscopic Zoom Lens
| | |
| --- | --- |
| 0.5X objective | Magnification from 0.3X (12 x 16 mm FOV) to 2.0X (1.6 x 2.4 mm FOV) with 175 mm working distance |
| 1X objective | Magnification from 0.6X (6 x 8 mm FOV) to 4.0X (0.8 x 1.2 mm FOV) with 82 mm working distance |
| Zoom | Manual |
| Focus | Adjust the height of the probing camera |
Probing Cameras - Common
Installation
Install Lens
Insert lens into the linear stage camera bracket. Gently tighten the thumb screw.

The thumb screw contains a ball plunger tip to allow camera rotation.


Install LED Ring Light
Loosen thumbscrews on the ring light and slip over the end of the Probing Zoom Lens (see Figure 1).

Make sure the thumbscrews align with the notch on the end of the lens and then tighten the thumbscrews.

Plug the LED control box into a power outlet.
Figure 1: Mount PN0293 LED ring light
LED Ring Light
To illuminate targets when capturing probing camera images, an LED Ring Light (see Figure 2) is mounted on the end of the Probing Camera lens. The LED Ring Lights provide cool lighting and does not require positional adjustment as it is always aimed directly at the target. An adjustable dimmer knob controls the amount of light illuminating the target. Turn the dimmer knob to adjust the brightness.