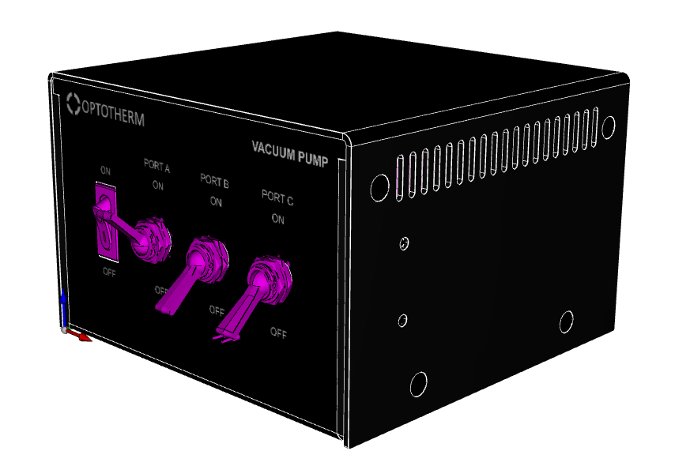 Vacuum Controller 12VDC
PN0257 is a 12VDC controller with 3 control valves for turning suction on and off of the connected vacuum port surface areas.
Vacuum Hold
Center and outer ring vacuum ports hold down small devices and semiconductor wafers using suction from the Vacuum Pump. Vacuum Control Valves control port suction to each port. Clear high-temperature silicone tubing connects the pump, valves, and stage.

Applications
Vacuum hold for device testing
Included Components
Power Supply, 12VDC, 1A, 2.5mm
Included In
Required Products
Related Products
Manufacturer Information


| | |
| --- | --- |
| Attainable Vacuum | -450 mmHg |
| Free Air Displacement | 3 L/min *1 |
| Duty Cycle | Continuous |
| Rated Voltage | 12VDC |
| Weight | 2.6kg |
| Dimensions | 182 x 155 x 112mm |
Figure 2: Vacuum Controller back
Figure 3: Thermoelectric Vacuum Chuck
Mounting (Optional):
Attach mounting brackets using provided M3 button screws.
Use
Turn on the power switch on the front of the controller (see Figure 4).

Place device on chuck surface, ensuring that either the center or outer ring vacuum ports is completely covered by the device.

Flip the control valves labeled "Port A" and/or "Port B" for suction on the center and outer ring vacuum ports.
Figure 4: Vacuum Controller front