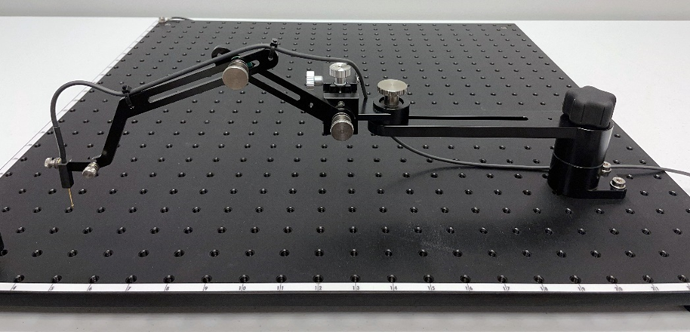 Circuit Board XYZ Spring Probe Set
PN0295
Probit XYZ (see Figure 1) is used to make electrical contact with circuit board traces, vias, and component leads. A three-axis micro-positioner coupled with six adjustable joints allow the interchangeable spring probe to contact probe points in any orientation. It has a reach of 400 mm and can be installed on mounting tables with M6 threads on 25 mm centers. Needle and crown spring probe tips are included.
Connection to test instrumentation is made using the included 1.5 m lead soldered to the spring probe socket with 4 mm banana plug. The lead is 20 AWG are rated at 1,500 VDC and 11 Amps.
The stiffness of each probe joint is controlled using spring-loaded thumbscrews. Ball and needle bearing washers enable precise control of joint compression so that joint stiffness can be fine-tuned for easy positioning and probing.
Applications
Probe circuit board traces, vias, and component leads

Probe semiconductor package leads

Probe small circuit board components leads, pads, vias
Included Components
Set of 2 XYZ spring probes, fully adjustable to all angles

Fine and course adjustments

Tulip and spear head test probes
Required Products


Related Products
Manufacturer Information
Probing Instructions
Center the X, Y, and Z micro-positioner thumbscrews.

Adjust the tightness of each joint to permit joint adjustment but also rigid enough to compress the spring probe tip.

Position the spring probe tip on or close to the contact site.

Use the X, Y, and Z thumbscrews to compress the spring probe tip on the contact site.