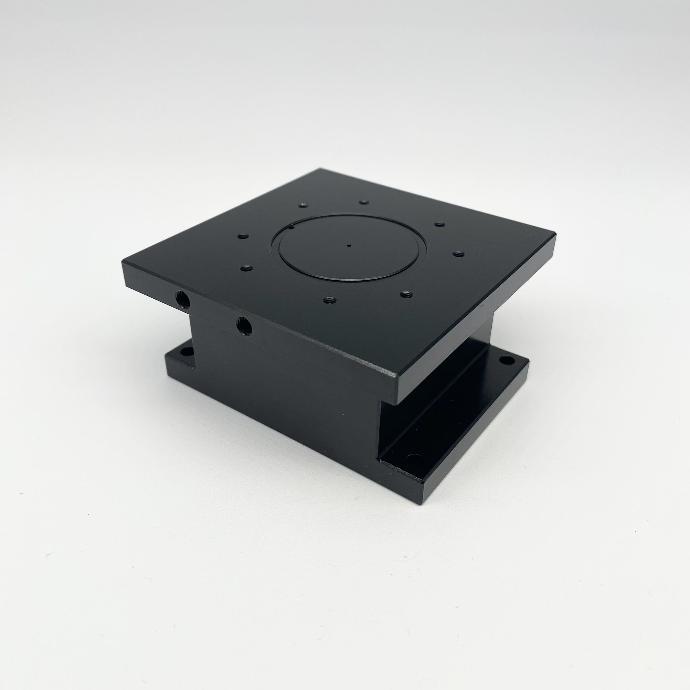 Device Probing Chuck
PN0700 is used to secure devices for testing using the included device clamps or optional vacuum pump. Includes vacuum center and ring inlets: Add vacuum chuck functionality by purchasing a vacuum pump controller (sold separately).
Applications
Included Components
Device clamps (set of 4)

Mounting hardware and tools
Required Products
Related Products
| | |
| --- | --- |
| Platform dimensions | 80 x 80mm |
| Material | Anodized aluminum |
Step 1: Connect to [PN0257] Vacuum Controller 12VDC
Place the Chuck onto the XY Stage so that the tubing exit in the direction of the linear stage.

Align the holes on the bottom of the Chuck with the four mounting holes on the top of the XY Stage so that the Chuck is centered.

Secure with the (x4) M6 thumb screws provided.
Figure 1: Device Probing Chuck mounted on [PN0253]
Mount Devices
Devices can be mounted on the top plate using the M3 internal threads.
Device Spring Clamp
This spring-loaded clamp (see Figure 2) screws into the top plate of the stage and is used to secure devices and small boards. Clamps have fingers at two different heights that can accommodate device thickness up to 18 mm. The clamp is comprised of anodized aluminum with a stainless thumbscrew.
Figure 2: Device Spring Clamp