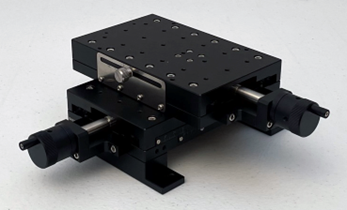 Device Positioning Stage Manual XY 100x160
PN0253 enables small components to be precisely moved and positioned within the camera's field of view. Crossed-roller bearings offer superior straightness of travel and can bear heavy loads. The stage platform is 100 x 160 mm and has M4 threaded mounting holes spaced 25 mm apart for mounting accessories and custom accessories. Using the X and Y micrometer dials, the stage can be quickly and easily be repositioned to previous locations. Each rotation of the knob moves the stage 1 mm. Thumbscrews allow the stage to be locked to in one or both X and Y directions to prevent sample movement during testing.
Applications
Device package XY positioning

Semiconductor wafer XY positioning

Small circuit board XY positioning
Included Components
XY stage

Mounting hardware and tools
Related Products
Manufacturer Information
| | |
| --- | --- |
| Platform Size | 100 x 160 mm |
| Travel Range | ± 35 mm |
| Drive Type | Precision ground screw & hand wheel |
| Screw Pitch | 1 mm |
| Height | 60 mm |
| Readable Resolution | 0.1 mm |
| Parallelism | 0.1 mm |
| Load Capacity | 40 kg |
| Weight | 2.6 kg |
| Main Materials | Aluminum alloy |
| Surface Treatment | Black anodize |


Installation
Determine center position (from the front of the mounting table) of the Thermal Camera lens when the Auto Y Stage carriage is in the middle of the stage.

Position the XY Device Stage on the Mounting Table so that it is centered under the Thermal Camera lens.

Secure it to the Mounting Table using four (4) M6 thumbscrews provided (see Figure 1).
Figure 1: Mounting the Manual XY 160
Use
Make sure the X and Y locking thumbscrews are unlocked and rotate the knobs to move the stage platform.