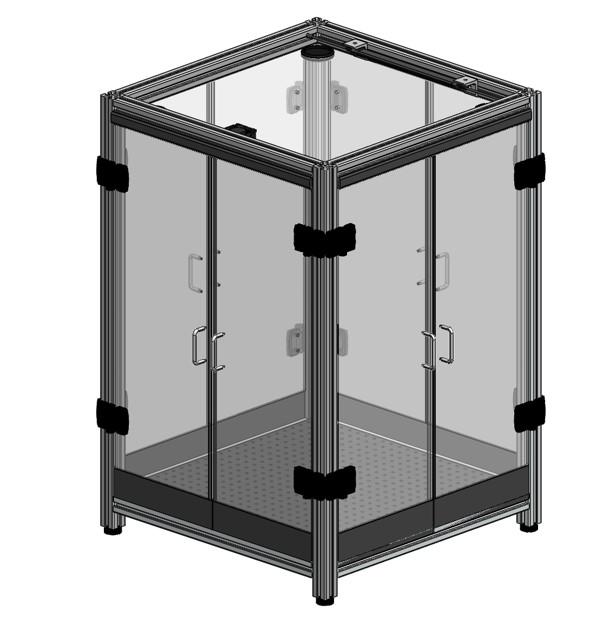 Sentris System Enclosure 600
PN0287
The anodized aluminum frame test enclosure (see Figure 1) provides a stable environment for improved test sensitivity by blocking the thermal noise emitted by the ambient environment and blocking air currents generated by heating and air conditioning vents.
Applications
Lock-in Thermography testing

Thermal Model Comparison testing

Semiconductor junction temperature measurement

Low noise thermal analysis
Features
Supports the 600 x 600 mm mounting table.

Transparent front, back, side, and top ESD polycarbonate panels allow a clear view from all sides.

Side cable slots (60cm width x 5cm height) enable easy test setup.

An exhaust fan (12VDC) removes heat from electronics (100-240 VAC, 50/60 Hz).

Dimensions are 70 W x 74 D x 106 cm H.

Includes ESD wrist strap grounding system.
Included Components
Clear anodized aluminum frame enclosure blocks ambient thermal noise and air currents for high test sensitivity

70 cm (W) x 74 cm (D) x 106 cm (H)

Transparent ESD polycarbonate panel doors on four sides

60 cm W x 7 cm H cable slots

Exhaust fan

LED bar light with brightness control
Required Products


Related Products
Manufacturer Information
Grounding the Enclosure
The mounting table and all test enclosure frame and door aluminum profiles are electrically connected for grounding safety. When setting up the enclosure, make sure it is properly grounded.
Grounding Instructions
A grounding cable is electrically connected to the enclosure aluminum frame. Plug grounding cable into a grounded electrical outlet.
Figure 1: Grounding the mounting table
Figure 2: Grounding plug in electrical outlet
Operator Grounding
To prevent damage to sensitive electrical components while handling electronic devices, operators should always wear anti-static wrist bands to prevent electrostatic discharge. Plug the wrist band cord into the grounding receptacle on the mounting table (see Figure 2.4.1).
Caution: The grounding receptacle is grounded only if the mounting table is properly grounded.

Figure 1: Operator grounding
Exhaust Fan
Turn the fan on when performing tests. The fan removes heat buildup in the enclosure originating from the Thermoelectric Vacuum Stage and from operating devices.