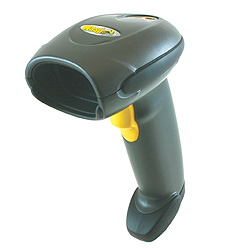 Barcode Scanner
PN0065
When performing Thermal Model Comparison tests, the laser Barcode Scanner can speed up entering each new circuit board ID. The scanner can read barcodes quickly and error-free at up to 29" away. High motion tolerance and a rastering scan pattern make the scanner easy to use. All common one-dimensional (1D) barcodes can be read, including damaged symbols or stacked RSS barcodes.
Applications
Entering circuit board serial numbers

Included Components
Required Products


Related Products
Manufacturer Information
Connect the scanner to an available USB port on your computer.

Software
Scanning an ID
A circuit board ID can be scanned into the New Test Board ID field only when a Thermal Model Comparison project is open, and the New Test tab is selected on the Thermal Model Comparison Window (see Figure 1). Aim the scanner approximately 6 to 12" away from the barcode and then press the trigger. After the barcode has been automatically inserted into the ID field, the ID can be edited using the mouse and keyboard.
Cursor Position: The cursor does not need to be in the ID field when scanning barcodes.

Figure 1: Thermal Model Comparison window