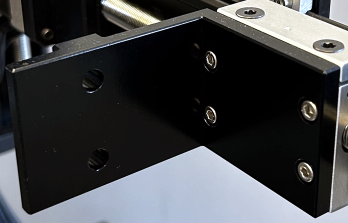 Camera Bracket IS640-17 to XS
PN0322

This bracket allows a IS640-17 camera to be mounted on PN0261.
Applications
Included Components
Additional Items Required
Manufacturer Information
Installation
Attach PN0322 to PN0261 using four (4) 6-32 screws provided (Figure 1).

Attach the IS640-17 camera to PN0322 using two (2) M6 thumbscrews provided (Figure 2).
Camera Damage: Hold the camera securely when handling and mounting.

Figure 1: PN0322 mounted on PN0261
Figure 2: IS640-17 mounted on PN0322